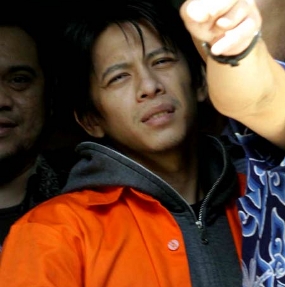 Eks vokalis Peterpan, Ariel divonis 3 tahun 6 bulan penjara atas beredarnya video porno yang dibintanginya bersama Luna Maya dan Cut Tari. Vonis Ariel tersebut disesalkan oleh bintang porno asal Norwegia, Vicky Vette.

Lewat akun Twitter-nya, Vicky menyesalkan hukuman yang harus diterima oleh Ariel. Menurut bintang porno kelahiran 12 June 1965 itu, hukuman tersebut tidak adil dan omong kosong belaka.

"3,5 years in prison for #Ariel = #bullshit RT," tulisnya beberapa menit yang lalu.

Kicauan Vicky pun langsung di retweet oleh banyak orang yang juga kecewa terhadap vonis Ariel. Vicky juga sedih melihat kekasih Luna Maya itu harus mendekam di penjara.

"Im sad for #Ariel that he is going to prison...hope he is ok :( rt," tulisnya lagi.

Bintang porno berambut pirang itu memang sering berkomentar soal isu hangat yang sedang terjadi di Indonesia. Beberapa waktu yang lalu, Vicky juga mengomentari tentang kebijakan Menkominfo Tifatul Sembiring.
Sumber : http://www.detikhot.com/read/2011/01/31/143415/1557191/230/bintang-porno-norwegia-anggap-vonis-ariel-omong-kosong?h991102207